What is the interest rate and payback period?
Effective January 1, 2022, the current interest rate for Single Family Housing Direct home loans is 2.50% for low-income and very low-income borrowers.
Fixed interest rate based on current market rates at loan approval or loan closing, whichever is lower
Interest rate when modified by payment assistance, can be as low as 1%
Up to 33 year payback period – 38 year payback period for very low income applicants who can't afford the 33 year loan term
Not the same as the USDA Rural Housing Guaranteed Program. These rates follow the secondary market and change daily like FHA, VA, Conventional Mortgage Loans and set by individual lenders based on lock period, credit score, loan amount, state, and other incentives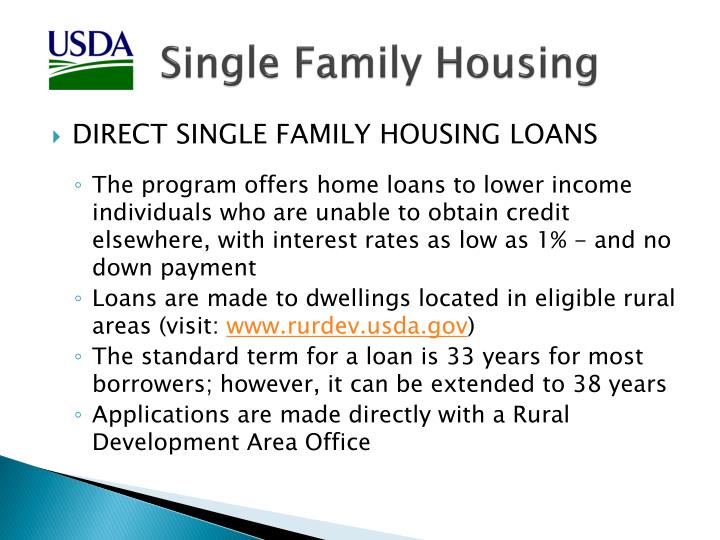 The USDA 502 Direct Loan Program helps low- and very-low-income applicants in federally-determined rural areas of the state obtain decent, safe and sanitary housing in eligible rural areas by providing payment assistance to increase an applicant's repayment ability. This payment assistance is a type of subsidy that reduces the mortgage payment. The amount of assistance is determined by the adjusted family income.
A number of factors are considered when determining an applicant's eligibility for this loan. At a minimum, applicants interested in obtaining a direct loan must have an adjusted income that is at or below the applicable low-income limit for the area where they wish to buy a house and they must demonstrate a willingness and ability to repay debt.
This is a zero down payment loan.
Click here for the current rate for the USDA 502 Direct Loan Program